Our knowledge, experience and special attention to the details of each industry provide the achievement of clients' goals in doing their business. Our specialists have been working in different business sectors, and as a result we perfectly understand the industry specificity of business.
SDM Partners Law Firm offers a full range of legal services according to the client's field of business. Our firm distinguishes by its excellent reputation among its clients due to its ability to find innovative solutions and implement them in accordance with high quality standards.
In consequence of the deep knowledge of the local market, professional level of experience and cooperation with more than 100 foreign partners — the leading law firms across Europe, Asia and the United States, our team provides a complex support cross-border and local projects.
SDM Partners has become a trusted and reliable partner from the moment they began consulting our company
The key factors of choosing SDM Partners were their in-depth issue knowledge, dedication to our needs and requirements
We were satisfied as the client of this law firm and we are looking forward to further cooperation
I want to extend my appreciation for the strong partnership that SDM Partners has forged with our company
Such partnership is always important, but especially so now with unique challenges of the current business environment
We would like to note that your professionalism, accompanied with the accurate flow of information was impeccable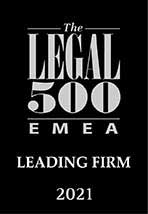 The Legal 500 EMEA 2021
IFLR1000 2020
Ukrainian Law Firms 2018: A Handbook for Foreign Clients (ULF 2018)
National ratings "Market's Leaders" and "Leaders of the Practices"